Test vozač kaskader

Posts: 1428
Joined: 19 Apr 2010 13:06
Vozim: Yamaha XTZ 750 ST
Honda XR 400 R
Location: Podgorica
---
Biker wannabe

Posts: 70
Joined: 26 Nov 2014 15:20
Vozim: The Beast
Pridružujem se čestitkama, super izgleda
---
NLB Moderator
Posts: 3803
Joined: 11 Feb 2009 10:11
Vozim: Uvijek prljavu Hondu xr650r
---
NLB Moderator
Posts: 5758
Joined: 03 Feb 2009 09:19
Vozim: KTM 990 Adventure
KTM 350 Freeride
Location: Niksic - Kotor
Contact:
neka je sa srecom!
takodje me interesuje preko koga si ga narucio?
---
Test vozač kaskader

Posts: 1033
Joined: 12 Feb 2014 21:55
Vozim: Hondu
Fala kolege.
Dobavljena direktno iz Delta automoto iz Beograda. Moj kontakt je bio Nenad Šegan, i sve pohvale za profesionalnost.
U Crnu Goru se mogu dobavit honde preko Efel-a i VG motoa, koliko sam ja shvatio, isto tako i djelovi. Ja sam okrenuo ovako, prvo nazvao hondu u Beogradu, poslije išao poslom nešto i usput navratio, dogovorio i eto. Možda je ovo bilo komplikovanije.
I marinero mi je rekao da je tako dovukao GS-a iz Dežele, pa velim da probam i ja NC-a iz Srbije. Gledao sam i Sloveniju, ali mi ovako ispalo jeftinije koju stotinu...
A počeo sam da ga gledam jer mi je goku, kolega sa foruma, sugerisao da postoji ovaj model - prije pola godine kad sam mu se žalio na skupoću polovnjaka.
Servis - ne postoji ovlašteni, ali ako se radi u Efel-u sa materijalom koji pošalje Beograd - priznaje se garancija. To treba da se precizira još.
U vožnji: osjeća se težina, dosta je velika i udobna, mada je sjedište više od nakeda nego od turera, zadnja kočnica je blentava, snage ima od odmah od nula obrtaja, osjećaju se i dva cilindra u radu, nije vala za off-a, voli da se obali sa gumama koje su došle (dunlop trailmax, sa dubokom šarom), ne udara vjetar puno uopšte mada mi je "premier" kaciga koje je bila dobra za skuter do 100km/h sad prebučna - valjda vizir motora prebacuje struju vazduha tačno u nju, malo se u farmerkama mučim da nađem položaj za testise, do autoputa ima dovoljno snage... Toliko o prvim utiscima. Probaću da napravim neki snimak za youtube ka što je moderno...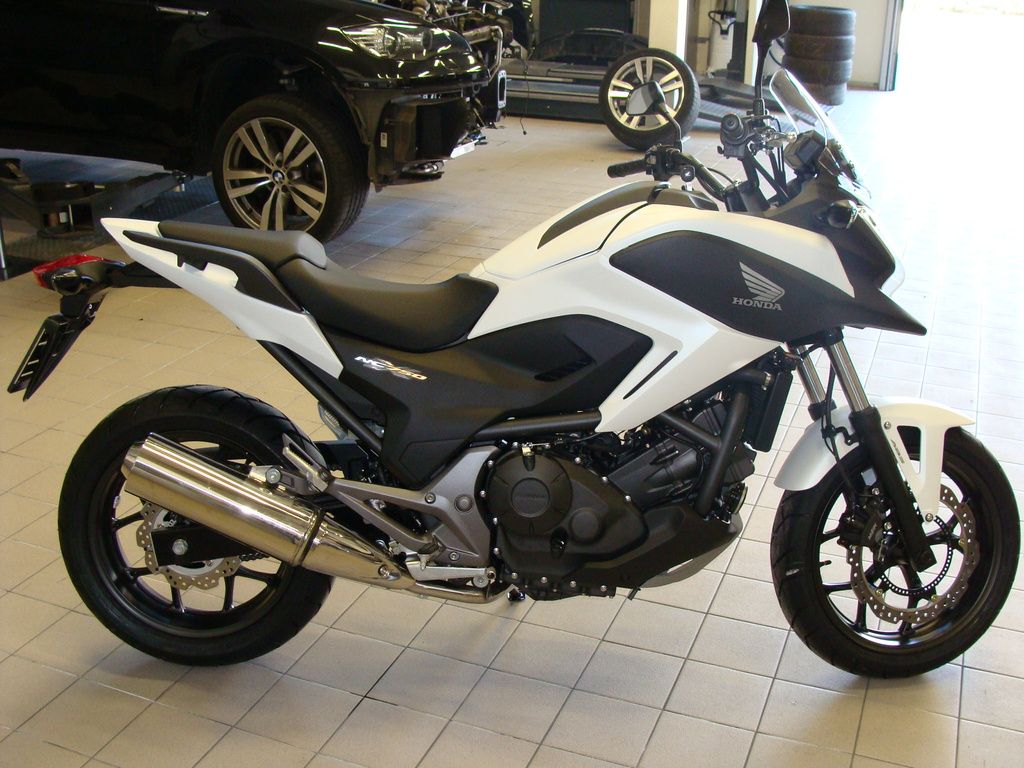 Last edited by
Kesha
on 12 May 2015 20:37, edited 4 times in total.
Polako žuri - Festina lente
---
Test vozač kaskader

Posts: 1289
Joined: 22 Apr 2009 11:02
Vozim: vozio bi , no trpim
Location: Podgorica
NEka ej sa srecom, da te zdravo sluzi!!
-Smrt fasizmu baba!
- I tebi sinko, i tebi!
---
Biker wannabe

Posts: 70
Joined: 26 Nov 2014 15:20
Vozim: The Beast
Pusti Kesha mane, bitno je da si kupio motor i da se voziš (što neko reče - najbolji je motor - onaj koji imaš), a sve te neke sitnice se mogu riješiti naknadno... Npr možeš kasnije naručiti duži turing vizir, udobnije sjedište, crash bar, itd...
Za sad je najvažnije da uživaš u vožnji... I ne zaboravi važnost opreme koju nosiš...
---
Silovatelj krivina

Posts: 821
Joined: 06 Mar 2011 20:07
Vozim: Honda Varadero 1000
Location: podgorica
Kesha, baš mi je milo da si kupio motor i to Hondu
.
Da užvaš u vožnji i neka je sa srećom !
Yamaha... Touching your heart
---
Grijač guma

Posts: 108
Joined: 27 Apr 2014 13:14
Neka je sa srećom.
Koliko je ispala na PG table ?
---
NLB Moderator
Posts: 2549
Joined: 04 Mar 2009 09:40
Vozim: BMW R1200GS Adventure
Location: Podgorica-Crna Gora
Aj sa srecom pa ga zdravo trosio,a tesko ces ga potrosit
Honda je to
---